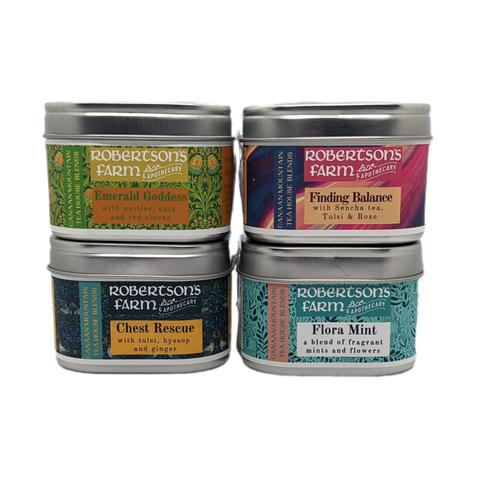 Robertson's Farm & Apothecary
Tea Bundle
$26.00
$34.00
you save $8.00
Treat your loved ones to our Tea Bundle.
With a great variety of teas for each season, you will be hard pressed to pick a favourite.

Balance tea - Bringing balance and focus.
Organic sencha green tea, tulsi basil, anise hyssop, milky oat tops and rose petals.

Chest rescue - Anti-microbial and anti inflammatory blend for soothing the chest and relaxing and supporting the respiratory system.
Anise hyssop, hyssop, tulsi basil, chamomile, plantain, echinacea tops and ginger.

Emerald Goddess Tea - Rich in chlorophyll and minerals, this infusion is a great addition to your daily weed/plant intake.
Nettles, oat straw and tops, red clover and butterfly pea flowers.

Flora Mint- 6 varieties of mint are blended into this fragrant, floral tea. Perfect for after dinner or when you have the beginnings of a headache.
All herbs are grown by us or are sourced from organic suppliers.