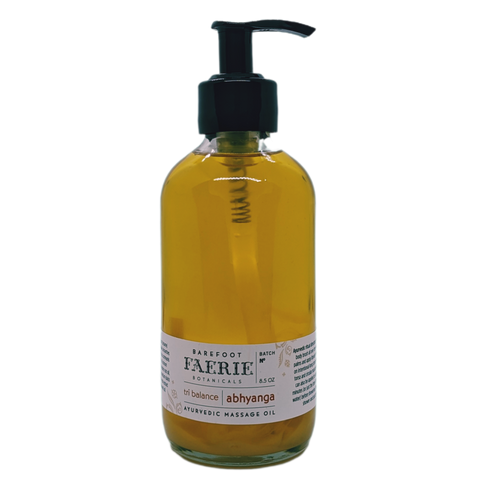 Robertson's Farm & Apothecary
Abhyanga Oil
Abhyanga is a form of massage in the respect that you stimulate muscles whilst applying the warm oil. But the main purpose for abhyanga is actually to allow the oil to absorb into your skin to nourish and cleanse the tissues. The oil is the most important part of this ritual.
With that in mind, we have sourced a wonderful organic, cold pressed sesame oil as our base of our Tri Balance oil. The blend of essential oils added are somewhat hypnotic and utterly addictive. The sweet orange and basil top notes burst into your olfactory system to uplift and centre, while the woodsy musk of vetiver and frankincense calm and focus the mind and leave a subtle scent on the skin for the rest of the day.
Our oil is botanically infused with farm grown calendula, yarrow and red clover, with an aromatic frankincense resin at the base.
**Bottles come with a screw top closure as standard. Please select 'with pump' for a black pump to be provided with your container.**
Directions
 Dry body brush all over prior to showering. Warm a little Abhyanga Oil in your hands and massage and stimulate the lymphatic system from head to toe. Wait 5 minutes (if you can) and then jump in the shower and refrain from soaping up too much. Ta-da! All wonderfully smooth and moisturised!
Ingredients
Sesame oil*, Non GMO Olive Oil, Castor Oil*, Meadowfoam seed oil, , Benzoin, Essential oils of Basil*, Vetiver, Frankincense, Sweet Orange*, Ajowan.
*organic
Packaging
8oz glass container
with or without black pump