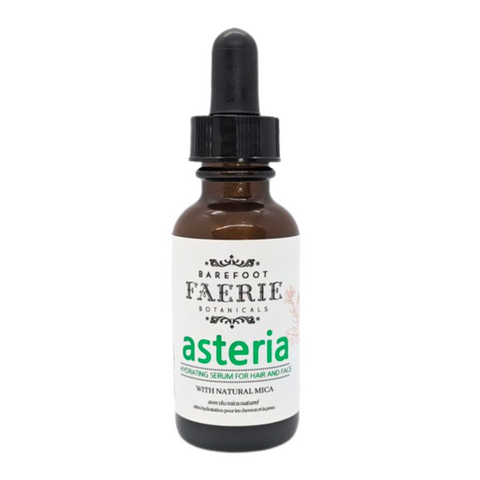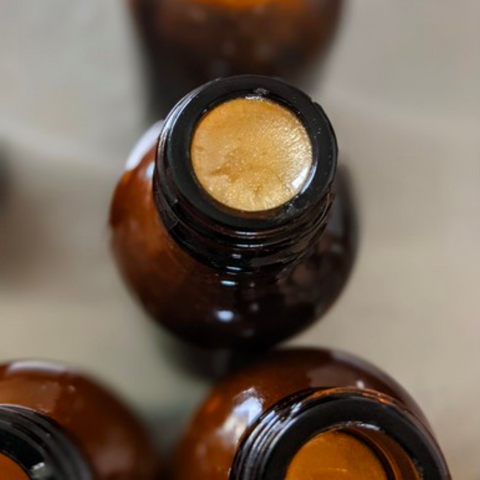 Robertson's Farm & Apothecary
Asteria Hydrating Serum
Asteria - Titan goddess of nocturnal oracles, astrology and the stars.
Welcome to your favourite new hair serum.

3 beautiful plant oils, all sustainably sourced, blended with a little mica and a touch of essential oil. Simple as nature itself.
Abysinnian oil is renown for improving hair's manageability, shine, and moisture, and is also known to act as a shield against irritants.

Along with its anti-fungal properties, since the oil is easily absorbed by the hair, it boosts shine and condition and promotes glossiness. It can also be used to help detangle sun parched hair.
Apply to ends of damp hair and dry as usual to seal in moisture. Use as a serum to tame wild hair and encourage natural curls with a glossy finish.
*Part of our "Glow Series" with Opehlia illuminating balm and Luminous body oil.


Additional Uses
Not only is Asteria great for hair but you can also use it on your face too.
Add a drop or two to your foundation for a dewy sheen or apply to the cheek and brow bones for an instant glow.  Asteria can add a touch of moisture and glow to dehydrated skin.
Abysinnian oil is easily absorbed into the skin's epidermal tissue, leaving no greasy after feel.
Passionfruit seed oil is rich in antioxidants Lycopene (carotenoid) as well as natural Vitamin C, that help promote collagen production and battle the effects of too much sun.
Raspberry Seed Oil is rich in omega 3 + 6 fatty acids and antioxidants, and provides protection to hair and skin from harmful UVA and UVB rays.
Ingredients
Abysinnian oil - Regeneratively grown and expeller-pressed on Prince Edward Island. Traceable from soil to oil.
Organic Passion fruit seed oil - A by product of the fruit industry. Raw, organic, cold pressed oil from Peru.
Organic Raspberry CO2 oil - A by product of the food production chain. Low temperature CO2 extraction.
The added scent in Asteria is very delicate to showcase the fruity passionfruit seed and raspberry seed oils. Skin is left with a subtle scent of rose geranium and citrus. Not over powering, but very uplifting to the senses.
Crambe abyssinica (Abyssinian) , Passiflora Edulis (Passion fruit) seed oil*, Pracaxi Oil , Rubus Idaeus (Raspberry) Seed Oil*, Tocopheryl Acetate (vitamin E), Gold leaf & Pearlescent mica ( titanium dioxide & iron oxide) Pelargonium Roseum (Rose Geranium) Leaf Oil, Citrus aurantium dulcis (Orange) peel oil*, Ocimum Basilicum (Basil) Oil*
*organic
1oz glass amber dropper bottle.