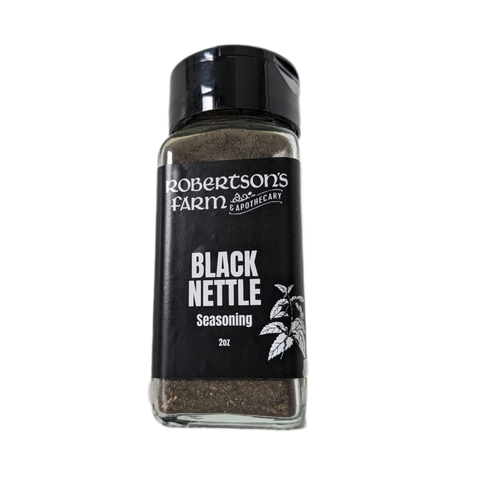 Robertson's Farm & Apothecary
Black Nettle Seasoning Salt
Black Nettle

An earthy, smoky seasoning salt that is as tasty as it is good for you! Full of chlorophyll and calcium. Rich organic nettles wrapped in a smoky mesquite and cocoa blanket. Using Redmond Salt to capture every ounce of trace mineral from the ancient sea bed in Utah.
Ingredients
Redmond Salt, Powdered Nettles *, Mesquite powder*, Onion Powder *, Oregano*, Marjoram, Coffee*, Cocoa*, Cumin*, Garlic powder*, Sugar*, Thyme Powder, Charcoal, Smoked Paprika*, Pepper*, Fennel*

*organic

Directions

Use to season beef, sweet potatoes, or sprinkle on top of a dunky fried egg.
There is no wrong way to use Black Nettle. And remember, it is so chock full of minerals that your body may crave it every day.......and that's ok.