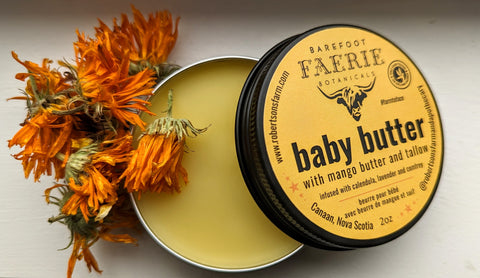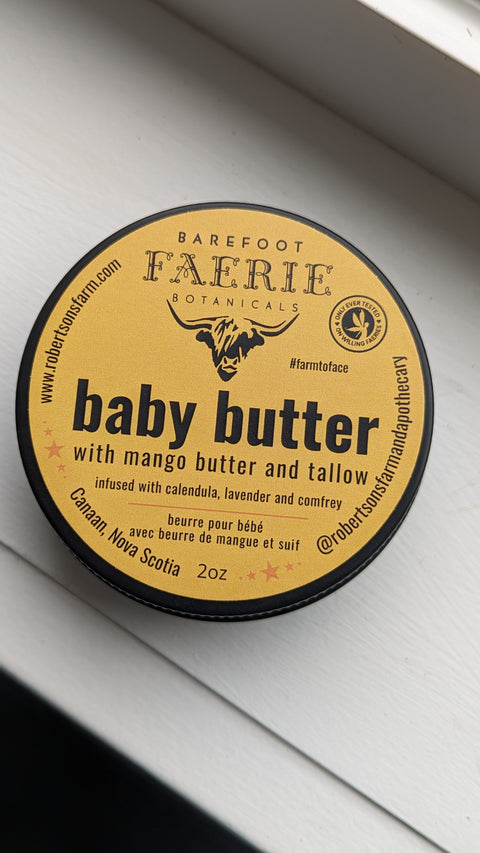 Robertson's Farm & Apothecary
Baby Butter (formerly known as Calendula Butter)
Our Calendula Butter was so popular in the parent and baby circuit that I was often called to re-name it 'Baby Bum Butter.'

Early 2023, when we, unfortunately, ran out of reliable sources for our Ucuuba Butter, we decided it was time to change the formula and the name with it.
Baby Butter was formed. 
Tallow, mango butter and calendula oil are the base of this balm, with beeswax providing an occlusive protectant layer to the skin.
We slow infused calendula flowers with lavender and comfrey for their anti-fungal, anti-bacterial and healing properties.
Tallow and mango butter provide intense hydration and protection for all types of skin, no matter how sensitive.

Baby Butter is extremely soothing for diaper rash.
Great for sore chapped hands and can be comfortably used on inflamed skin conditions without a super greasy after feel.

Directions 
Apply a small amount to inflamed skin.
Pat onto diaper rash and apply often to create a barrier.
Ingredients
Abyssinian oil infused with Calendula, Comfrey and Lavender, Olive Oil, Tallow (from grass fed beef), Mango Seed Butter, Beeswax, Organic Coconut Oil, Vitamin E, Wild Lavender Essential Oil, Roman Chamomile Essential Oil*.
(0.7% essential oil in formula)
2oz Metal tin
Star Ingredients
MANGO BUTTER
Mango Butter is extracted from the kernels of the mango tree. It is a rich source of antioxidants, emollients, Vitamins A and Vitamin E and is known to assist in the regeneration of skin cells.
LAVENDER ESSENTIAL OIL
Distilled from an uncultivated harvest in the South of France. Each batch differs due to varied genetics that alter with the survival on difficult terrain and the changing seasons.
Never modified. Never sprayed. Never judged. Just allowed to be. 
Lavender oil is known for its soothing and cooling properties for the body, mind and spirit.
Wild Lavender Scent - Fresh, floral, soft green herbaceous aroma with a sweet caramel note at the end.