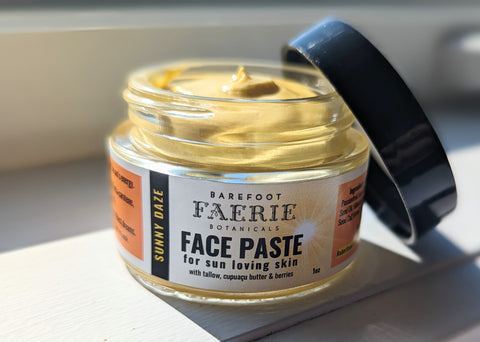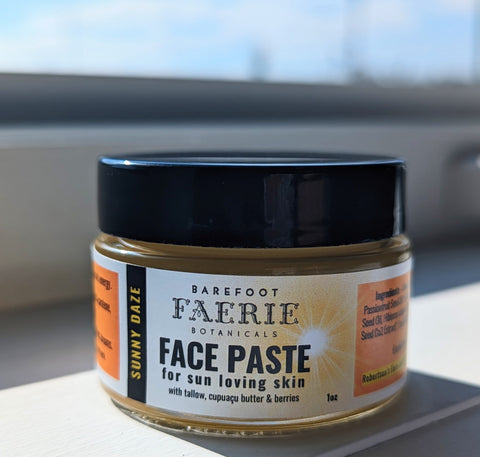 Robertson's Farm & Apothecary
Face Paste // Sunny Daze
$27.00
$34.00
you save $7.00
Sunny Daze FACE PASTE
Formulated to be a sun lovers BFF. If you enjoy soaking up Vitamin D and spending time recharging with the suns energy, then Sunny Daze Face Paste is for you.
Grass fed Tallow is one of the star ingredient in our moisture balm and contains high levels of vitamins A (think retinol), D, E and K, as well as antioxidants and essential fatty acids CLA (Conjugated Linoleic Acid is an essential fatty acid that is responsible for the free flowing of moisture in and out of our cells.) Infused with Rooibos tea for antioxidants, marshmallow root for hydration, blackberry leaf for boosting collagen, liquorice root for brightening and calendula for healing.
Loaded with fruit oils - Buriti, Passionfruit, Tomato seed, Wild Cranberry, and supercritical Co2 extracts of Raspberry, Pomegranate, Rosehip, Sea Buckthorn, Turmeric and Calendula.
Fruit oils and extracts are loaded with free radical fighting properties, rich in beta-carotene, lycopene and vitamins.
Can help with sun spots, uneven skin tone and dehydrated skin.
FACE PASTE is a cross between a moisturiser and a balm. Using only a teeny amount for the whole face. It will feel heavy at first, but sinks in to leave a silky, hydrating veil.
Ingredients - 
Tallow (infused with rooibos, blackberry leaf, marshmallow root, liquorice root, calendula) Cupuaçu Butter*, Passionfruit Seed Oil*, Buriti Fruit Oil*, Tomato Seed Oil, AHI Flower Oil, Copiaba Oleoresin, Wild Cranberry Seed Oil, Hibiscus infused Glycerin, Raspberry Seed Co2 Extract*, Pomegranate Seed Co2 Extract*, Rosehip Seed Co2 Extract*, Sea Buckthorn Co2 Extract*, Turmeric Co2 Extract*, Calendula Co2 Extract*, Vitamin E*. (*organic)
Essential oils - Green Mandarin, Frankincense, Helichrysum, Rose, Patchouli.