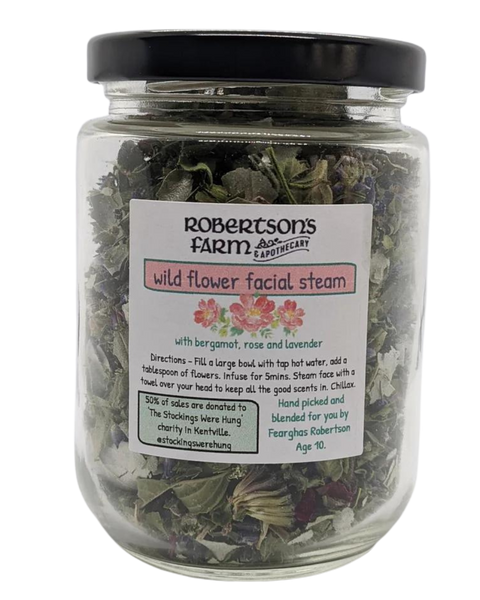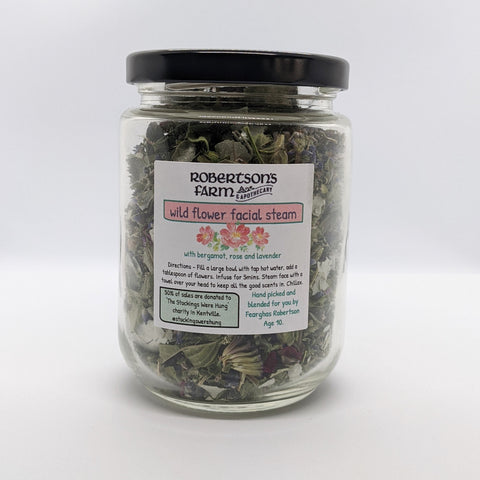 Robertson's Farm & Apothecary
Wild Flower Facial Steam
Wild Flower Facial Steam by Fearghas Robertson (10)
50% of all proceed from Fergie's facial steams goes towards local charities.

For the winter of 2022 he has chose again to donate to our fantastic local charity - The Stockings Were Hung, Kentville.
Fearghas spent the summer months selecting, harvesting and drying the flowers and herbs that go into his summer facial steam. Garbled all together to create a floral, zesty steam that is wonderful for opening up pores and cleansing the face.
Directions
Fill a bowl with hot, but not boiling, water. Add a tablespoon of facial steam and mix well.
Place a clean tea towel over the bowl to allow the scents to develop and the oils to be released.
Remove the towel after 5 minutes and place face over bowl, with the towel over your head to capture the steam.
After 10 minutes, remove the towel and apply your favourite face oil and have a truly relaxing day/evening.
Ingredients
Bergamot/bee balm, Lime Balm, Roses, Lavender, Russian Olive Leaf, Queen Annes Lace.