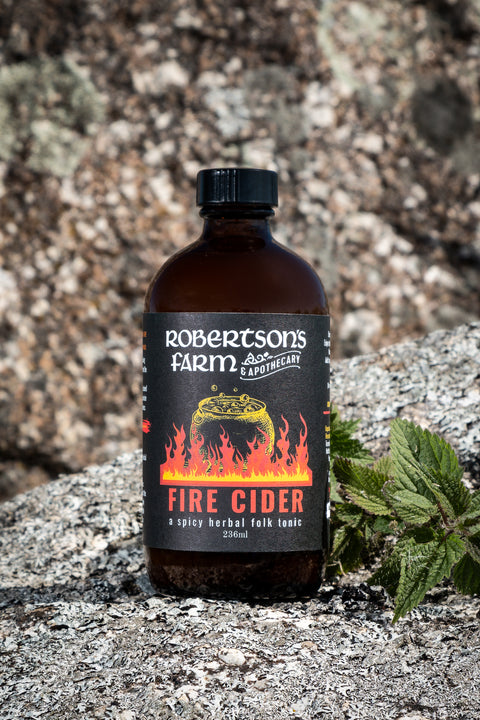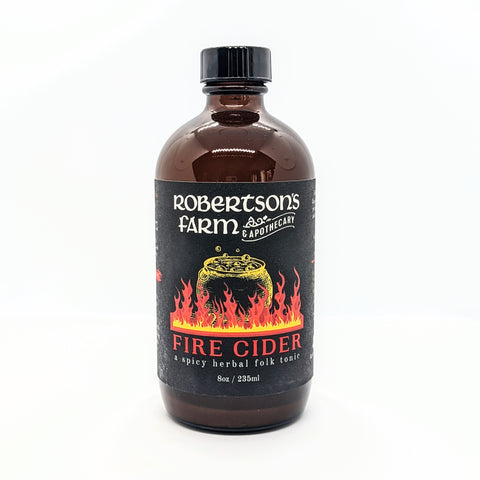 Robertson's Farm & Apothecary
Fire Cider
**Please note - we cannot ship the 32oz Fire Cider**
Fire Cider is an old traditional folk remedy that was known to be taken as a preventative tonic throughout the winter months, when fresh produce, herbs and spices were scarce.  This tonic is jammed packed full of food with amazing healing, soothing, circulatory and heart healthy properties.

Our Fire Brew is created by infusing a range of potent, powerful vegetables, herbs and spices with AVC for 4-8 weeks.  We then strain off the solids and juice them up and add them back into our brew.
This creates a knock out tonic, which can be taken daily on its own, drizzled over salads or shaken into Caesars.

Give your immune system a boost with Fire Cider!
Directions 
Take a tablespoon per day as and when required.
I like to take it during the change of seasons to support my immune system.


Ingredients

Boates Apple Cider Vinegar*, Onions*, Ginger*, Horseradish, Turmeric*, Garlic*, Honey^, Lemon*, Ring of Fire Chillies^, Nettles^, Red Raspberry Leaf^, Goldenrod^, Peppercorns*, Mustard Seeds^, Thyme^, Rosemary^

^Local  *Organic


4oz (100ml) /8oz dark amber bottle /32oz dark amber jug