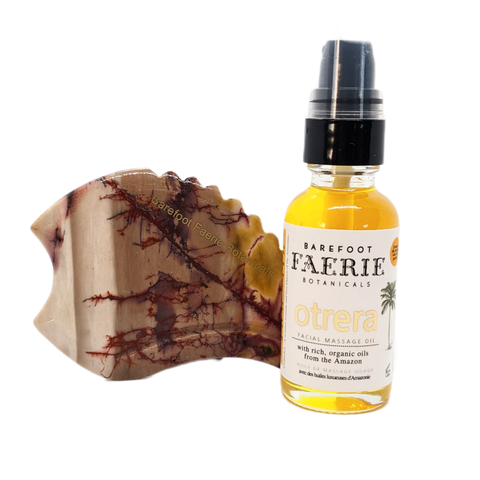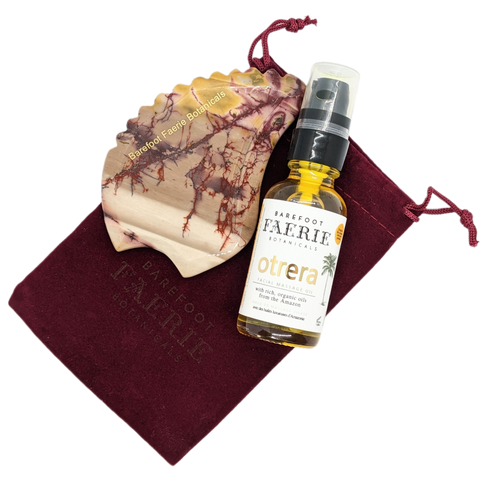 Robertson's Farm & Apothecary
Guasha Bundle
Bundle up our Mookaite Guasha stone and 1oz Otrera Facial Massage oil and receive the Mookaite stone for 50% off.
Gua sha is a traditional Chinese alternative, healing therapy that involves scraping your skin with a massage tool to improve circulation. 
Using a Gua Sha tool regularly can :
Stimulate circulation
Help produce collagen
Soften fine lines and wrinkles
Decrease puffiness
Give you utterly glowing skin
About the stone -Mookaite is an Australian Jasper.
Also known as Mook Jasper, Mookaite is named after the place where it is found, on the Mooka Station/Mooka Creek located near the Kennedy Ranges in Western Australia. Mooka is an Aboriginal word meaning running water.
Know to promote strength, vitality, courage and physical healing.
It differs from other Jasper forms, not only by its texture but also by its vibrant blood red tones, pinks, mustard, pale purples and cream tones which reflect some of Australia's unique landscapes and earthy tones. Its robust shade of brown reminds us of Mother Nature and the earth's crust, the very sustenance that makes life possible.
Mookaite is recognized for its anti-aging capabilities, and although we never use the phrase 'Anti-Aging' over here, we do love what Mookaite means by this term.
The Mookaite stone embraces the power of an ageless spirit, which aids in understanding the body-mind connection and how it changes as we age. It brings your thoughts about aging and degeneration to the foreground of your consciousness and encourages the ageless spirit to embrace change and restores an optimistic and young outlook on life by replacing old, harmful tendencies with a rejuvenated sense of self. 
Mookaite stone is extremely grounding and connected to the root chakra. It helps to ground your mind, heart, soul and spirit into this earthly realm and all that Mother Nature has to offer.
Mookaite protects against unpleasant or harmful situations by removing and preventing undesirable outside influences.
Mookaite Jasper stones are usually coloured red, yellow, mustard, white, brown, and they also come in shades of pink and purple, some stones have a mix of all colours, each gua sha is unique so please keep this in mind, if you have a colour you would like then please let us know when you order.
 ------------------------------------------------
OTRERA - Named after a warrior woman and the first Queen of the Amazons.
Our facial massage oil is a blend of raw Amazonian oils infused over 6 weeks with anti-inflammatory and stimulating herbs and spices. (Cardamom, turmeric, ginger, marshmallow leaf and flower, pink peppercorns and copal.)
Essential oil free and the perfect amount of slip to use with facial massage tools like our Guasha stone or a stone roller.
Otrera is very special, as it encompasses all the hard work that goes into sourcing ethical materials, crafting relationships with suppliers and in turn farmers who benefit from each and every purchase we make.
To bring this oil full circle, we donate $3 from every bottle to a non-profit in Peru. (www.bosqueros.org)
--------------------------------------------------
Mookaite Stone - $45 now $22.50
Otrera Facial oil - $42
$64.50
Total gift to you savings $22.50
Ingredients
Ingredients - Wild Copaifera (Copaiba oleoresin) Paupera, Plukenetia Volubilis (Sacha Inchi)* and Passiflora Edulis (Passionfruit) seed oil* - (infused with curcuma longa*, zingiber officinalis*, elettaria cardamomum, schinus molle*, chondrus crispus extract, rosa centiflora, bursera fagaroides, althaea), Abyssinica (Abyssinian), Terminalia ferdinandiana (Kakadu Plum) Wild Mauritia Flexuosa (Buriti)*, Tocopheryl Acetate (vitamin E).
*organic/ cold pressed, virgin oils from the Amazon