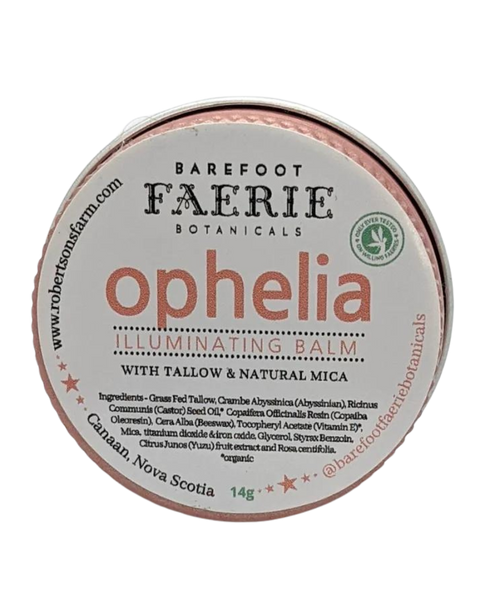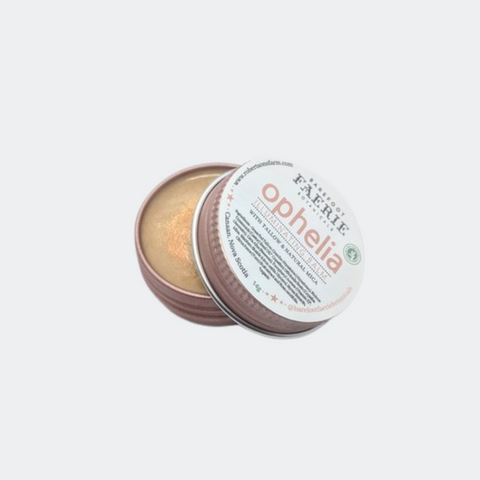 Robertson's Farm & Apothecary
Ophelia Illuminating Balm
Ophelia: One of the smaller, inner moons of Uranus.
Glow radiant like Ophelia with this all natural, lightly scented balm. Non greasy. Super light.  Will not clog pores.  
Hand rendered, grass fed tallow and local Abysinnian oil provide ultra hydration for the skin.  Tallow is loaded with Vitamins (A, B12, D, E, and K - this one and only vitamin combo is only found in animal fat), and essential fatty acids, Alpha linoleic and linoleic acids (maintain and protect the outer layer of the skin), Stearic acid and oleic acid (for repairing and regenerating skin), Conjugated linoleic acid - (powerful anti-inflammatory acid), Palmitoleic acid (anti-microbial), Palmitic acid (helps to smooth the surface area)
COPAIBA OLEORESIN
Sustainably harvested from the Copaifera Paupera tree in the Peruvian Amazon. Using non deforestation techniques, the tree's remain and offer regular income and habitat for local wildlife year round.
Copaiba is one of nature's potent anti-inflammatory resins and contains large amounts of beta-caryophyllene, which interacts with our cannabinoid receptors and ignites our happiness hormones.
Indigenous communities use Copaiba oleoresin for its antibacterial, anti-fungal and anti-inflammatory properties. It can also offer relief from diaper rash, psoriasis and dermatitis. 
BEESWAX
Local beeswax from Nova Scotia. 
Beeswax forms a protective, non-pore blocking, barrier to the skin.
Directions
Apply to cheek bones and up and around eyebrow area to add glow, highlights and intense moisture. Can also be used as a nourishing lip balm.
Ingredients
Grass Fed Tallow, Crambe Abyssinica (Abyssinian), Ricinus Communis (Castor) Seed Oil,* Copaifera Officinalis Resin (Copaiba Oleoresin), Cera Alba (Beeswax), Tocopheryl Acetate (Vitamin E)*, Mica, titanium dioxide & iron oxide, Glycerol, Styrax Benzoin, Citrus Junos (Yuzu) fruit extract and Rosa centifolia
*organic
Packaging
0.5oz metal tin